Our Classes and Childcare
We are here to care for and teach your children during their preschool years. These are the most important years a child has and we treat their care as such. We incorporate our faith-based values into our curriculum and care plan. Even if you don't consider yourself to be of the faith, these values can help your child gain a moral compass to guide them.
We have a highly trained team to care for your preschool-aged children. Our team is one of a kind, each caretaker is hand-picked based on their qualifications. We also consider personality and values, as we want to make sure our caretakers' values align with the values we teach. Our teachers lead by example, so having caretakers that share our values is important.
Many people in our community have children and jobs, so we are offering our help our neighboring mothers and fathers that need help caring for their children while they are at work. While it is hard watching your baby grow up, we are here to teach and support them through preschool.

If you have been searching for a preschool that shares the same values as you, we are here to care for your children and facilitate learning in their young minds. Each new experience is a learning opportunity. Whether your child is learning to play well with others or learning a new craft, we stimulate creativity and instill a strong sense of morals in their young minds. You can put your mind at ease knowing that your child is safe and learning valuable lessons.
We teach them core values and encourage them to be the best they can be. In our preschool classes, we focus on helping them adjust to a new schedule. Daycare to preschool is a big jump and it takes time for our young pupils to adjust to learning more and playing less. We are patient and gracious with them as they learn.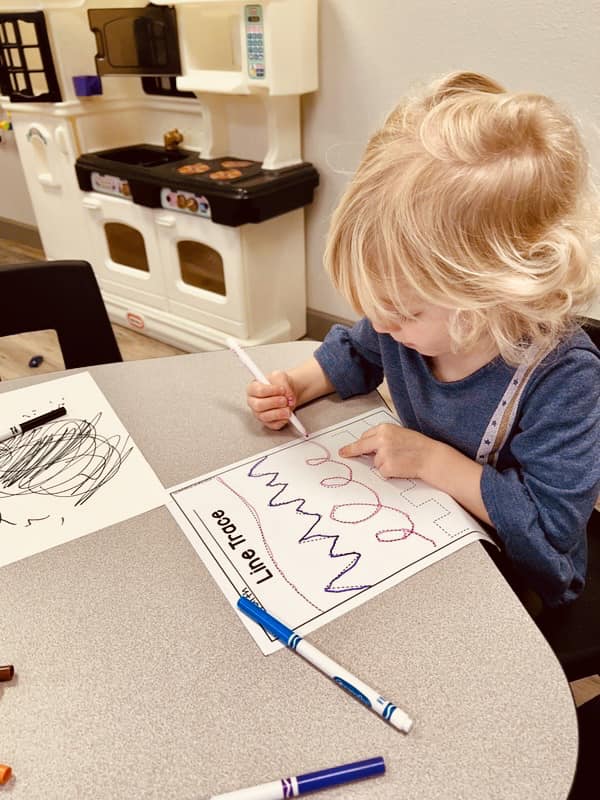 Our staff is not only dedicated to the well-being of your child but also highly trained in safety and security procedures. They are experienced in providing a safe and nurturing environment where your child can learn, play, and grow.
At The Little Pioneer School, we believe that your child's safety is a fundamental part of their overall well-being. We take pride in the measures we've implemented to ensure that every child in our care is protected and secure. Our commitment to safety, modern facilities, video monitoring, manageable class sizes, and "MomentPath" technology sets us apart as a daycare that prioritizes your child's well-being.
We understand that entrusting your child to our care is a significant decision, and we want you to have complete confidence in the safety and security of The Little Pioneer School. Rest assured, we are dedicated to creating an environment where your child can flourish while being protected, and where you, as a parent, can have peace of mind knowing your child is in capable and caring hands. Your child's safety is our top priority at The Little Pioneer School.
Modern and Secure Facilities: Our daycare facilities are updated and equipped with modern security features to ensure the safety of every child in our care. We have taken every step to create an environment where both children and parents feel safe and comfortable. Our facilities are designed to meet the highest safety standards.
Video Monitoring for Added Security: We take safety seriously, and that's why we have implemented a state-of-the-art video monitoring system. This allows us to keep a watchful eye on every classroom, ensuring that your child is safe and secure at all times. With our video monitoring, you can have peace of mind knowing that your child is under close supervision.
We have a firm foundation in our faith and we integrate these values and principles into our care and teaching. Each interaction with the children in our care is an opportunity for us to show them love, graciousness, and kindness. We use these opportunities to teach them how to love their peers and show graciousness to each other, even from a young age. Our teachers and caretakers lead by example.
We have strong values of:
These values are faith-based, as our goal is to help you raise your child with a strong moral compass that can't be shaken by the world.
Enroll Your Little Pioneers
Enroll your little ones today. We teach them core values and more, and set them up to be the best little pioneers they can be. Space is limited, and though our goal is to expand, we must start small. Register today at no cost to you to see how your child thrives as a little pioneer. 
As soon as we receive your registration application, we will contact you for enrollment information. Our prices are straightforward and there are no hidden fees. Your child's first week with us costs a total of $300. This breaks down to $150 for your first week of care and the other $150 is for your child's last week of care.
The Little Pioneer School's weekly rate is $150 each week for each child enrolled. If you have multiple children, we offer a 10% discount to families who enroll a second child. If you have a child who is 18 months of age to 5 years old, we are ready to teach and care for them.
As your child grows, so do we. In 2024 we will be ready to care for children 6 weeks old onward until they are ready to graduate from kindergarten. At this point our prices will increase by 20% to make sure we have the resources to maintain our high standards of care. We do this only to maintain our state-of-the-art facilities and the teachers that are dedicated to your child's education and care.
Upon the completion of phase II, we will have a total of 9 classrooms and we will have a new jungle-themed playground. This will allow us to care for more children and hire more teachers to ensure each child is getting the best education possible.
We are more than just childcare, we can take your child through their early school years. Set your child up for success with The Little Pioneer School. Our faith-based principles elevate each child's learning experience. Inspire your child to be a little pioneer of the future. It is important to encourage your child as they grow. We encourage our students to explore their interests, even from a young age. 
Set your child up to be a little pioneer for the future. We have a personalized approach to teaching and caretaking, making sure your child is receiving what they need. See the difference with The Little Pioneer School.